Download the pattern: Diamonds on the Mind PDF
When knitting, I like colorwork and I like hats. It should come as no surprise, then, that I doubly like colorwork hats.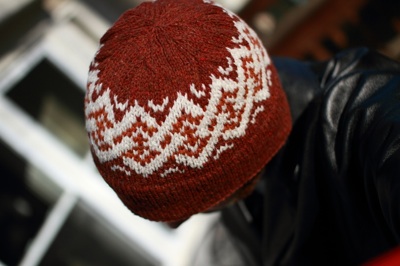 This one has a hemmed brim, and a repeating, overlapping pattern that is made "jogless" by a bit of special trickery at the end of each round. The only special skill (aside from knit, purl, ssk, k2tog and basic stranding) that's required is a provisional cast-on. Usually, before I begin a project with a provisional cast-on, I'll look up a little refresher.
After you get past the provisional cast-on, you'll knit the inside of the brim, do a perl round for the turn then knit the outside of the brim. To avoid sewing, at the top of the brim, you'll pick up one of the provisionally cast-on stitches, and k2tog with a live stitch from the body—and repeat that all the way around.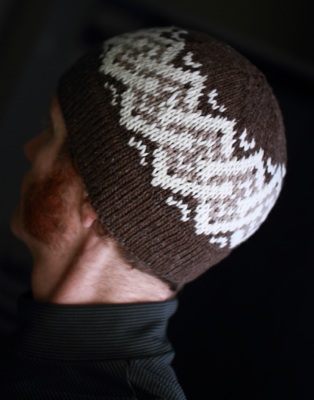 The pattern calls for three yarns: a main color #1 (MC1), a main color #2 (MC2) that is in the same color family as MC1 and a contrast color (CC) that is white or off-white. If you are so inclined you can skip MC2, and just use MC1 for the entire hat. And, of course, if you go crazy and use something wild for the CC, small children won't die.
Note that several people who have knit this pattern have said that it ends up too big. Between my propensity for knitting tight, and the lack of a forgiving ribbed brim, you would be well advised to pay attention to gauge, and perhaps use smaller needles or modify the pattern if you knit loosely.
Overall, it's a fairly simple hat that, if I may say so myself, looks pretty nice. Enjoy!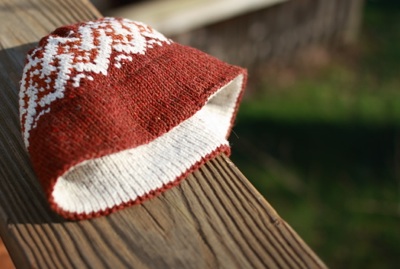 Download the pattern: Diamonds on the Mind PDF