While in Iceland for the Laugavegur Ultra Marathon, Martha and I came across the storefront for the Handknitting Association of Iceland. I took the opportunity to stock up on yarn. The Álafoss Lopi was ridiculously inexpensive, so I got a sweater's worth of it.
After a bit of consideration, and consultation with Martha, we decided on a forest green main color, with some yellow and white for contrasting colors. I didn't really know what I was going to do with it.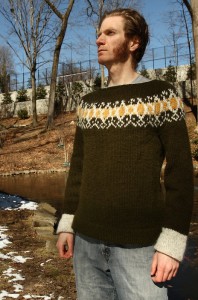 I ended up working the standard seamless design from Elizabeth Zimmerman's Knitting Without Tears.  I started with a provisional cast on, and reversed it with a perl round after a few inches to give me a straight, hemmed edge. I did the same around the sleeves. The touch of color on the inside makes me happy.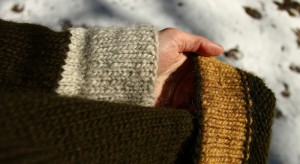 I made up the yoke as I went along. You put in so much work for something like that, and you have no idea whether it'll fit until it's pretty much done. So you need to enjoy the process, and accept that in the end you might walk away with something that sucks. If it comes out right, well, that's just a bonus.